To quote the LHC:
"Log homes have been shown to be a competitively energy efficient, durable, and environmentally useful alternative to traditional construction methods. Both consumers and the environment will benefit from the increasing recognition of log homes as green and energy efficient dwellings."
"The log home is an American construction concept with a significant history. Some of the oldest occupied structures in North America are log buildings, indicating their fundamental durability when properly designed and constructed. Modern manufacturing methods are bringing new technologies in making log homes increasingly energy efficient and durable..."
"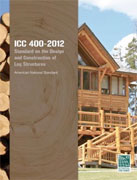 The Montana Building Industry Association paper from 2009 references the ICC (International Code Council) 400 log home regulations shown here, which deals with energy efficiency in log homes:
"It addresses a variety of issues integral to log construction including production, structural aspects, thermal envelope, and settlement. This standard offers a solid reference for design, construction and installation requirements for log structures. This standard has been approved for reference in the 2012 International Codes." You can find a copy of the publication on Amazon here.
Roof Efficiency
Meadowlark Log Homes offers many roofing options, all of which are highly energy efficient. Our high energy efficient roof installations typically utilize spray-in foam or fiberglas insulation. Our most popular roofing material over roof framing and insulation is our metal roofing, which is long lasting and cost effective.
Click to see details of typical roof installations.